Who is Deshae Frost?
Deshae Frost (born January 9, 2001) is a popular comedian, rapper, and dancer famous for his comedic script and skits on Vine's social media platform. He is also famous for his role in CBS's SWAT as Darryl Henderson. Many fans were in awe of his acting skills and ability to deliver comedic punches, relatable in society.
He is also equally talented in his rapping and dancing skills from a young age. He is regarded as D-Frost in the rap industry. Due to his fame, he has generated over 2 million followers on Instagram and over 70,000 YouTube subscribers. He first began pursuing an interest in music and went under the rap name D-Frost. He also wrote scripts in his spare time after school.
He also simultaneously wrote scripts for comedy sketches. Later, when his mother discovered his talent in comedy and acting, Deshae turned his focus toward comedy. He began performing as a local stand-up comedian and later became a "Viner." On 'Vine,' he has collaborated with social-media stars such as Kingbach and Jay Versace.
Discover Deshae's age, height, weight, net worth, relationship, and full bio below.
Quick Bio
Name
Deshae Frost
Born
January 9, 2001 (19 years old)
Gender
Male
Profession
Comedian
Birth Sign
Capricorn
Country
USA
Nationality
American
Religion
Christianity
Ethnicity
Mixed
Height
165 cm (in centimetres)
1.65 m (in meters)
5 feet 5 inches (in feet and inches)
Weight
65 kg (in kilograms)
145 lbs (in pounds)
Hair Color
Black
Eye Color
Dark Brown
Father
N/A
Mother
Monique Camillo
Spouse
Jordyn (Girlfriend)
Children
N/A
Net Worth
$ 700,000
Profiles
Facebook, Instagram, Twitter, YouTube
Early life
Where was Deshae Frost born?
Deshae Frost is a popular comedian and Youtuber born in Washington. Ever since an early age, he was passionate about dancing, rapping, and acting. He started to make Vine videos and started to gain fame due to his ability to make people laugh.
He is now in college after completing high school but has not disclosed the university he is attending. His parents are an inspiration, and he gives them all the credit for their upbringing. They have encouraged his passion and fully supported his dreams and passions.
He was raised alongside his brother and one sister. He is very close with both of them.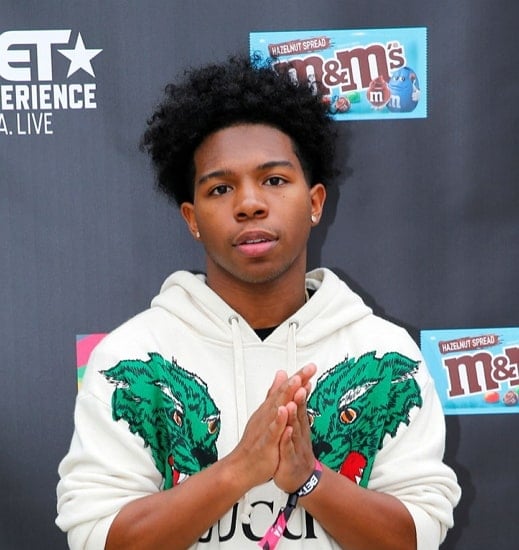 Career
What is Deshae Frost famous for?
Deshae Frost was a viral comedian on Vine. He was known for his comedic skits and scripts. After Vine got closed, he started to create his YouTube channel. In April 2011, he started his own YouTube channel.
He started to post pranks, challenges, and comedic videos on his channel. Since he was already popular with Vine, his fans started to grow on YouTube as well. His pranks were hilarious and well-coordinated. His prank video titled "GUY FLIRTS WITH MY SISTER IN FRONT OF ME PRANK! Vlogmas 12" is the most popular to date, with over 8 million views.
He later started to release his music on his YouTube channel. He started rapping and releasing for his fans, who adored his musical work. He started sharing his music videos in early 2020, and his new single "Love Me" has been an instant hit with over 440,000 views.
He is also famous for doing vlogs and Q and A's with his fans. He likes to share his upcoming project and his real-life happenings on YouTube. Fans admire his humility and willingness to share his personal life with them.
Along with YouTube, he is also really popular on Instagram. He loves to share photos of his vlogs, behind the scenes, etc. Currently, he has over 2 million followers on Instagram. He has also released his merchandise due to over demand of his fans. His fans can buy his merchandise through his website.
Personal Information
What is the height of Deshae Frost?
Deshae Frost stands at the height of 5 feet 5 inches tall and weighs about 65 kg. He has black colour hair, and his eyes colour are dark brown. His zodiac sign is Capricorn.
He is from Washington, D.C, and his ethnicity is mixed with Afro-American. He has short pointy hair and has a fit, muscular body. He is passionate about the gym and works out frequently.
Relationship
Who is Deshae Frost dating now?
Frost is currently dating Jordyn, who is an Instagram model. She frequently appears on Frost's vlogs and pranks, as well as his Instagram photos.
But Frost was actually popular with his ex-girlfriend Dregoldi. Dregoldi is also a famous Instagrammer and YouTuber. Frost and Dregoldi had a YouTube channel called Shae and Dre, where they used to post their cute moments and their pranks and vlogs.
But in 2018, they broke up. Dregoldi revealed the cause of the breakup was Frost cheating on her, but Frost has not confirmed anything yet.
Regarding his family, there is not much known about his father. His mother's name is Monique Camillo, who frequently appears on Deshae social media. He also has a brother named Amare Frost and one sister named Brooklyn Frost.
Net Worth
What is the net worth of Deshae Frost?
Deshae Frost is a famous YouTuber, stand-up comedian, rapper, and actor. He is really famous all over social media, particularly YouTube, due to his vlogs, pranks, and challenges videos, which are very funny.
His primary source of income is via YouTube, but he also has brand deals and has his own merchandise line. As of 2020, his net worth is estimated to be approximately $700,000.
View this post on Instagram
Trivia
Deshae Frost was born in Washington, USA.
He uploaded his first YouTube video in 2011.
His prank video with his sister has over 8 million views.
His net worth as of 2020 is approximately $700,000
Deshae Frost and Melvin Gregg are both famous American YouTubers known for prank videos.
Videos
Image Credit – @DeshaeFrost Instagram
People Also Search For Theo Von and Karl Pilkington