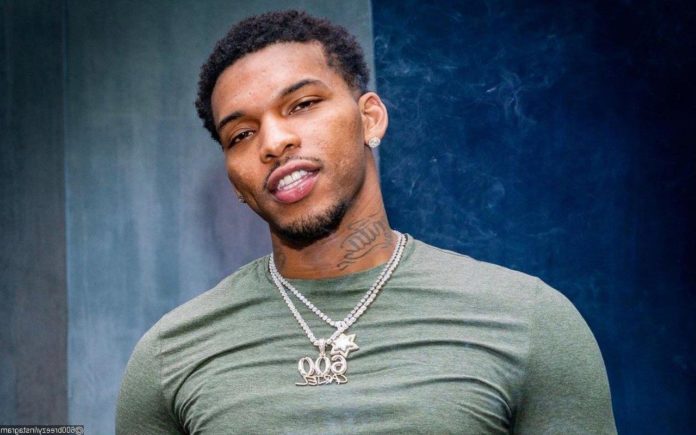 600Breezy is a well-known American rapper, songwriter, and social media personality. Breezo George Gervin: Iceman Edition is one of his popular mixtapes
Who is 600Breezy?
Antonio Valentino King, prominently known by his stage name 600Breezy is a rapper and songwriter hailing from the United States of America. He has created good rap pieces as well as many controversies in his career. The rapper has released four discographies so far that are Six0 Breez0, Iceman Edition 2, BreezoMatic, and Art Of War. His mixtapes include Breezo George Gervin (Leading Scorer Edition), Breezo George Gervin (Iceman Edition). Breezy's only extended play is First Forty-8. 3 AM IN MS Freestyle, Don't Get Smoked, Freestyle, Murder Rate, Stop Playin, Big Stepper, King of the Six, What You Rep, Lotta Gang Shit, More than Safe are a few of Breezy's hit singles. He has faced criticism for his illegal works.
In 2012, he was sentenced to jail with the charges of possession of crack cocaine intended to distribute. Apart from that occasion, the rapper spent a trial in 2017 for violating parole. 600Breezy is also quite popular for his connections. He has been intimately associated with several women. Most of them are known personalities for which the rapper has been a recurrent name in the media. 600Breezy is a social media star with 1.1 million followers on Instagram, 79 thousand followers on Facebook, 65.3 thousand subscribers on Youtube, 20 thousand followers on SoundCloud, and 130.6 thousand followers on Twitter. He belongs to the gang Black Disciples.
Quick Bio
Birth Name

Antonio Valentino King

Birth Date

April 16, 1991 (Age 30)

Birth Place

Chicago, Illinois, USA

Birth Sign

Aries

Gender

Male

Other Names

600Breezy

Parent(s)

N/A

Sibling(s)

N/A

High School

N/A

College

N/A

Education

N/A

Profession

Rapper, songwriter, social media star,

Active Years

2012- Present

Country

United States of America

Nationality

America

Ethnicity

African-American

Height

6 feet 5 inches

Weight

74 kg

Eye color

Dark brown

Hair color

Black

Sexual Orientation

Straight

Relationship

In a relationship

Spouse(s)

Unmarried

Girlfriend(s)

Sky Days (Present)

Queen Key (ex)

Ashley Jones (ex)

Children

N/A

Tattoos

Yes

Social Media Handles

Facebook

Net worth

$700 thousand
Career
What does 600Breezy do?
600Breezy is a famous rapper and Youtuber in the USA. He has released several hit singles and albums to date. Breezy released his debut mixtape Six0 Breez0 in 2015. Menace of Chiraq, Do Sum, What You Rep are some of the hit songs of the mixtape. The rapper's second mixtape Breezo George Gervin (Iceman Edition), was released in the following year. It was named after the legendary NBA player George Gervin. He released his third mixtape Breezo George Gervin (Leading Scorer Edition), in 2017.

Next year, the rapper's only extended play titled First Forty-8 came out. His rap album Iceman Edition 2 was released in 2020. 24 Bars, Pt. 4 Racked up, Gunshots are the popular singles of the discography. Two of Breezy's famous albums were released the following year, namely BreezoMatic and Art Of War. He created a self-named youtube channel in 2015. 600breezy – 24 Bars was uploaded in 2016, which has 999k views. The video with the title 600Breezy – Six0 Shit Pt. 2 is watched 1.5 million times.
Personal Information
What is 600Breezy's physical appearance?
600Breezy is a 30 years old rapper born in Chicago, Illinois, USA. He is 6.5 feet tall and weighs around 74 kg. The rapper has dark brown eyes and black hair.
Relationship
Is 600Breezy married?
600Breezy is unmarried but in a relationship with Sky Days. He previously dated Queen Key and Ashley Jones.
Net worth
Is 600Breezy rich?
600Breezy is a wealthy rapper. His net worth is $700 thousand.
Trivia
600Breezy is a member of Black Disciples.

His birth sign is Aries.

Breezy has 1.1 million followers on Instagram.
View this post on Instagram
People Also Search For Rodney Jerkins and Lud Foe