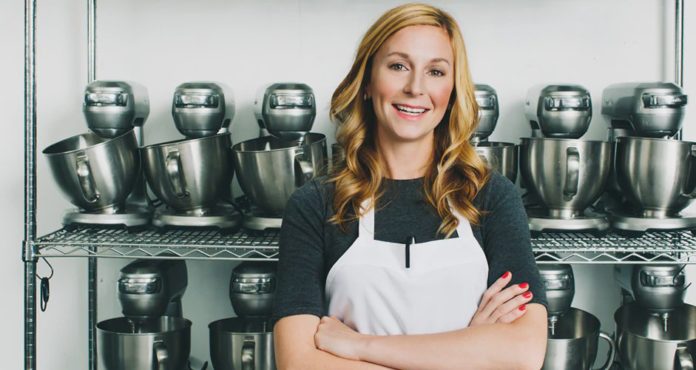 Who is Christina Tosi?
Christina Tosi is a known American personality. She is a celebrity chef who has also been one of the judges in MasterChef's cooking show in its sixth season. She is one of the best-known bakers in the USA. She was named among the Most Innovative Women in Food and Drank in 2014 by Food and Wine Magazine. And formed her famous bakery, the Milk Bar, in 2008. He has also authored a few cookbooks, namely Momofuku Milk Bar and Milk Bar Life.
Quick Bio
Birth Name

Christina Tosi

Birth Date

November 9, 1981 (Age 39)

Birth Place

Ohio, USA

Birth Sign

Scorpio

Gender

Female

Other Names

No

Parent(s)

Greta Tosi-Miller

Sibling(s)

N/A

High School

John R. Lewis High School

College

University of Virginia

James Madison University

Education

Graduate

Profession

Chef, Author, Entrepreneur

Active Years

2005- Present

Country

USA

Nationality

American

Height

5 feet 7 inches

Weight

58 kg

Eye color

Brown

Hair color

Brown

Sexual Orientation

Straight

Relationship

Married

Spouse(s)

Will Guidara

Children

Yes

Tattoos

No

Social Media Handles
Twitter
Net worth

$2 million
Career
What does Christina Tosi do?
Christina Tosi is a renowned American chef and entrepreneur. She has always been passionate about cooking and has also been an inspiration for emerging chefs. She did a specialized course in pastry art from The French Culinary Institute. She started working in David Bouley-owned fine-dine restaurant Bouley in Tribeca, Manhattan, New York City. She left the job later on. In 2005, she joined Michelin'-star chef Wylie Dufresne's restaurant wd~50 in Manhattan. There she started assisting in writing the restaurant's Hazard Analysis Critical Control Point plan.

In the same year, she moved to David Chang's restaurant Momofuku with Dufresne's recommendation. Tosi was responsible for the dessert program of the restaurant menu. She delivered delicious recipes like cereal milk panna cotta, and fried apple pies with sour cream and toasted miso. Soon she was appointed as the pastry chef of the restaurant. In 2008, Momofuku decided to separate its bakery section, and thus with Tosi, they successfully formed Milk Bar. Tosi was able to open nine outlets in New York City and one in Toronto by 2012.

Tosi opened another outlet in Washington DC in 2014, in Las Vegas in 2016, and 2018, her first outlet in Los Angeles. She also partnered with &pizza and was responsible for opening their store in Harvard Square, Cambridge, Massachusetts. She has also appeared in many TV series like Unique Sweets, Conan, Chopped, The Taste, etc. she also judged MasterChef and MasterChef Junior in 2016 and 2018. In 2020, Tosi appeared in The Kelly Clarkson Show.
Personal Information
What is Christina Tosi's physical appearance?
Christina Tosi is a 39 years old American chef. She is 5.7 feet tall and weighs around 58 kg. Her eyes and hair are brown. Her mother's name is Greta Tosi-Miller, and her father's name is not known. She attended John R. Lewis High School, University of Virginia, and James Madison University for her academic purpose. She then did a specialized course on pastry arts at The French Culinary Institute.
Relationship
Is Christina Tosi married?
Christina Tosi is straight and has been married to Will Guidara since 2016. The couple is blessed with a daughter.
Achievements
What are Christina Tosi's achievements?
Tosi won the Rising Star Chef of the Year in 2012 James Beard Award. She won the Outstanding Pastry James Beard Award in 2015. Crain's New York Business named Tosi one of the 40 top business people in New York City below 40.
Net Worth
How much does Christina Tosi earn?
Tosi is a successful chef and author. Her net worth is $2 million.
Trivia
Christina Tosi judged MasterChef.

She has been to the French Culinary Institute.

She is married to Will Guidara.
View this post on Instagram
People Also Search For Tyanna Wallace and Zak Bagans