Shannon Briggs is a distinguished professional boxer in the USA. He won the gold medal in the United States National Boxing Championships in 1992
Who is Shanon Briggs?
Shannon Briggs is a reputed former boxer in the United States of America. He is remarkably known for his aggressive nature in the ring. Briggs possesses a vast body that makes the fighter stronger. He has been exceptionally recognized for his adherence to the boxing field for years. The soldier has a record of a knockout-to-win percentage of 88.3%, which is quite a rare stat even among the present fighters. Briggs has been the champion of the World Boxing Organization's world heavyweight championship. He has defeated renowned fighters like George Foreman, Ray Mercer, and Siarhei Liakhovich. The boxer won silver in the multi-sport event, Pan American Games, in 1991.
Briggs won gold in the United States National Boxing Championship the following year. He is regarded as a legendary boxer by contemporary boxers. Briggs has been a specimen of hard workers determined to conquer the world. Aside from being a boxer, he is also a known face in the American film industry. Briggs' most popular movies are- Bad Boys II, Greatland, Transporter 2, Three Days to Vegas, and The Wackness. For his contribution in boxing and acting, Briggs has been followed by millions worldwide.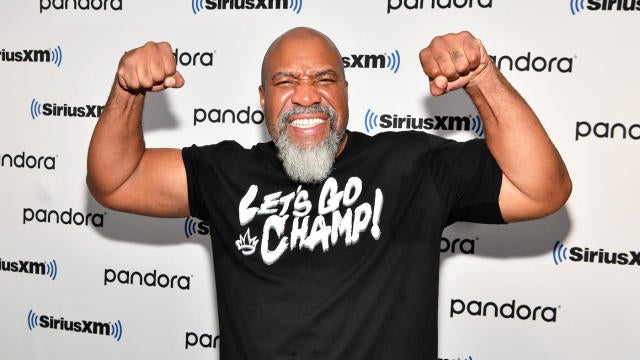 Quick Bio
| | |
| --- | --- |
| Birth Name | Shannon Briggs |
| Birth Date | December 4, 1971 (Age 49) |
| Birth Place | Brooklyn, New York City, New York, USA |
| Birth Sign | Sagittarius |
| Gender | Male |
| Other Names | N/A |
| Parent(s) | Margie Briggs |
| Sibling(s) | N/A |
| High School | N/A |
| College | N/A |
| Education | N/A |
| Profession | Boxer, Actor, TV personality |
| Active Years | The 1990s- Present |
| Country | USA |
| Nationality | American |
| Height | 6 feet 4 inches |
| Weight | 119 Kg |
| Eye color | Black |
| Hair color | Blck |
| Sexual Orientation | Straight |
| Relationship | Married |
| Spouse(s) | Alana Wilson |
| Girlfriend(s) | N/A |
| Children | Chan Briggs |
| Tattoos | N/A |
| Social Media Handles | Instagram |
| Net worth | $12 Million |
Career
What does Shannon Briggs do?
Shannon Briggs is a former boxer in the USA. After spending a tragic childhood where his family became homeless and losing his mother, Briggs tried to restart his life from scratch. He joined the Starrett City Boxing Club, where he received James O'Farrell. When he started his boxing career, the boxer was passionate and determined. Briggs became the New York City Golden Gloves champion as an amateur wrestler.

He also received the New York State Champion titles and National P.A.L. Champion. The boxer was unbeaten till 1996 after stepping into his professional career but faced the first defeat by Darroll Wilson in the same year. Briggs fought for the Lineal heavyweight championship against the defending champion George Foreman in 1997. After a tight competition, Briggs was declared the winner of the match.

In 2006, the boxer defeated Sergei Liakhovich to win the WBO heavyweight championship. In the following year, he lost the tournament to Sultan Ibragimov. Apart from these, Briggs has fought many other minor games in his career. He has also acted in films and TV shows. Briggs made his acting debut with the 1995 police drama series New York Undercover. One of his notable appearances includes Bad Boys II in 2003.
Personal Information
What is Shannon Briggs' physical appearance?
Shannon Briggs is a 49 years old boxer and actor. He is 6.4 feet tall and has a bodyweight of 119 Kg. The fighter has black hair as well as black eyes. His mother's name is Margie Briggs, who died due to a drug overdose.
Relationship
Who is Shannon Briggs' wife?
Shannon Briggs has been married to Alana Wilson. The couple has a child named Chan Briggs.
Net worth
Is Shannon Briggs rich?
Shannon Briggs is a successful as well as a wealthy boxer. His net worth is $12 Million.
Trivia
Shannon Briggs won the gold medal in the US National Championship.

Margie Briggs is his mother.

The boxer's weight is 119 kg.
View this post on Instagram
People Also Search For Peter McNeeley and Eddie Alvarez