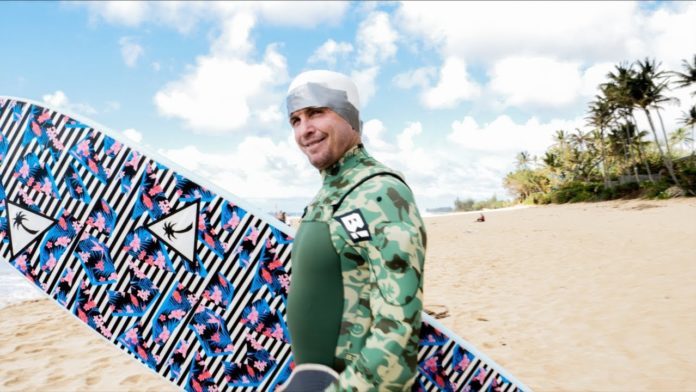 Who is Jamie O Brien?
James Duncan O'Brien is an American surfer who has achieved his goals at a young age. Taking birth in a place surrounded by the ocean and crazy waves like Hawaii inspired him to swim and surf. O'Brien's father was a lifeguard on the beach, and he spent most of his childhood on the seashore.
The anticipated surfer was not aware of his skills and talent. While spending time at the seashore with his father, O'Brien shared thoughts with many notable swimmers and surfers, ultimately increasing his interest in this profession. He won the Hansen Pipeline Pro title in 2003 and became Pipeline Master in 2004. Jamie was one of the youngest surfers to become the Pipeline Master. He was named the 2004 Fosters Expression Trestles and won the Rip Curl Invitational cup in 2009.
The surfer also won the Volcom Pipeline Pro in 2010. Jamie's legacy as a superb surfer lies within the TV and film appearances he has made because of his profession. He featured in Who is JOB, Pipe, Blue Crush, The Battle of Cape Fear, View from a Blue Moon, Step into Liquid, Let's Be Frank, 80 Waves, etc., films and series.
Quick Bio
Birth Name

James Duncan O'Brien

Birth Date

9 June 1983 (Age 38)

Birth Place

Kahuku, Hawaii, USA

Birth Sign

Gemini

Gender

Male

Other Names

Jamie O'Brien, Job

Parent(s)

Mick O'Brien

Sibling(s)

N/A

High School

Kahuku High School

College

St. Norbert College

Education

Graduate

Profession

Surfer, TV personality

Active Years

The 1990s- Present

Country

United States of America

Nationality

American

Height

6 feet 1 inch

Weight

88 kg

Eye color

Brown

Hair color

Brown

Sexual Orientation

Straight

Relationship

In a relationship

Spouse(s)

Unmarried

Girlfriend(s)

Annika Bauer

Tina Cohen

Children

No

Tattoos

NO

Social Media Handles

Twitter

Net worth

$1.5 million
Career
What does Jamie O Brien do?
Jamie O Brien is a renowned surfer from Hawaii. He was introduced to the sport by his father, a lifeguard, at the age of three. Growing up by the seashore increased Jamie's love for the ocean and waves. He started participating in competitions from the age of six. He grew up seeing one of the popular sea reef breaks, Banzai Pipeline, in Hawaii and dreamt of crossing it. After participating in minor events, the surfer prepared for professional-level competitions. Jamie took part in the Pipeline Masters in 2001 for the first time but, unfortunately, could not grab the title.

Later in 2003, he successfully finished Hansen's Pipeline Pro with the first position. He has a record of being one of the youngest surfers to win the Pipeline Masters. Jamie bagged the first position in Fosters Expression Trestles and the Rip Curl Pipeline Masters in 2004. In 2009, the young surfer won the Rip Curl Invitational cup. Apart from these, O'Brien won the Boost Breakthrough Performer of the Year Award by Surfer Magazine' in 2005. The series Who Is JOB was made on Jamie's lifestyle about surfing in 2013. He also featured in many movies, including the 2002 film Blue Crush.
Personal Information
What is Jamie O Brien's family background?
Jamie O Brien was born and brought up in Kahuku, Hawaii, USA. His father, Mick O'Brien, was a lifeguard in Hawaii. There is no information about the identity of O'Brien's mother. The surfer was born on 9 June 1983 and will turn 39 next year. Jamie attended Kahuku High School and joined St. Norbert College for higher studies. His height is 6.1 feet, and his weight is 88 kg.
Relationship
Is Jamie O Brien married?
Jamie O Brien has not married yet. He is straight and had a few relationships in the past. The surfer dated a woman named Annika Bauer for a few years. He is now in a relationship with Oahu resident Tina Cohen.
Net worth
How much does Jamie O Brien earn?
Jamie O Brien is one of the prominent surfers at present. He has many titles in his name as well as broke several records in surfing. Jamie's net worth is $1.5 million.
Trivia
Jamie O Brien is 38 years old.

His nickname is Job.

Jamie attended St. Norbert College.
View this post on Instagram
People Also Search For Bob Costas and Ricky Carmichael