Who is CallMeCarson?
CallMeCarson's real name "Carson King" (born May 10, 1999), is a comedic YouTuber, web commenter, and famous social media personality. Their main contents are made up of funny discord videos and Minecraft games. His first YouTube channel was named " TheBlewCrewPros". The channel contains about 3.2 million subscribers and over 350 million views. He is also infamous on Instagram with 2.2 million followers and collected about 1.3 million followers on Twitter.
He was born on 10th May 1999 and created his channel on his 13th birthday, i.e., on May 10, 2012. He became popular with his videos like DeviantArt is NOT Safe and Invading Discord Servers. He is known for creating videos and his friends, usually recording themselves on the app Discord or in the video game Minecraft. He returned to YouTube on April 24, 2020, with the long-awaited "Best of CallMeCarson" 2020 edition.
Quick Bio – CallMeCarson Wiki
Name
CallMeCarson (Carson King)
Born
May 10, 1999 ( 21 years old)
Gender
Male
Profession
YouTuber
Birth Sign
Taurus
Country
USA
Nationality
American
Religion
Christianity
Ethnicity
Mixed
Height
190 cm (in centimetres)
1.90 m (in meters)
6 ft 3 inches (in feet and inches)
Weight
60 kg (in kilograms)
132 lbs (in pounds)
Hair Color
Blonde
Eye Color
Dark Brown
Father
N/A
Mother
N/A
Spouse
N/A
Children
N/A
Net Worth
$80,000 – $90,000 (Approximately)
Profiles
Instagram, Twitter, YouTube
Career
He created his first YouTube channel in May 2012. But his first video was uploaded in 2014, named ALS Ice Bucket Challenge + Face Reveal Challenge, at the age of 15. That video hooked him with his admirers, and they were particularly impressed with his confidence and humour. After some time, his YouTube was renamed, Carson King.

Carson announced his new podcast UNZIPPED PODCAST on his youtube channel, where at least four people under 20 would speak about topics they don't care about.

Content on the YouTube channel includes comedic satire on web culture. He is famous for his photoshop skills, trolls, and memes. He has the best ability for a comedian to laugh at himself and not get embarrassed about making fun of his appearance.
Some of the most popular videos in his channels are "Invading Discord Servers 2″, " Weird Pictures of Toilet 2″, "Invading Discord Servers 3", "The Most Cursed Images". Other YouTubers such as Cscoop, McNasty, RaccoonEggs, Hugbox, etc., have also collaborated with him on the channel. He also has a second channel with over 400,000 subscribers named CallmeCarsonLIVE.
In March 2019, he teamed up with other streamers to create a season of Minecraft Multiplayer Series which was really famous among gamers.
CallmeCarson is also a podcast member with RacoonEggs called " Solitary Confinement", where the major subjects were entertainment and games. He also has another podcast named "Goop Squad" with other YouTubers named Gooper, Josh, and Joko. He later had to change the podcast name to the Fart club and again to the Lunch Club. He is also really famous on Instagram with comedic edited photos and videos.
Personal Information
What keeps callmecarson fit?
CallmeCarson stands at the height of 6 ft 3 inches and weighs about 60 kg. He has blonde hair, and his eyes colour are Dark brown.
His personality is really confident, comedic but he is constantly self-deprecating. He makes fun of himself and his appearance, which sometimes becomes a little too sympathetic.
Relationship
Is CallMeCarson Single?
As of 2020, CallMeCarson is single and is only focused on career. He dated another fellow YouTuber Katerino in 2016. The couples were loved by the fans, but the controversy ended their relationship.
He openly stated that Katerino had cheated on him with Fitz, Carson's good friend, while knowing about his mental health. The situation was later proved false.
Other than that, nothing is much known about Carson's parents or siblings and his previous relationships.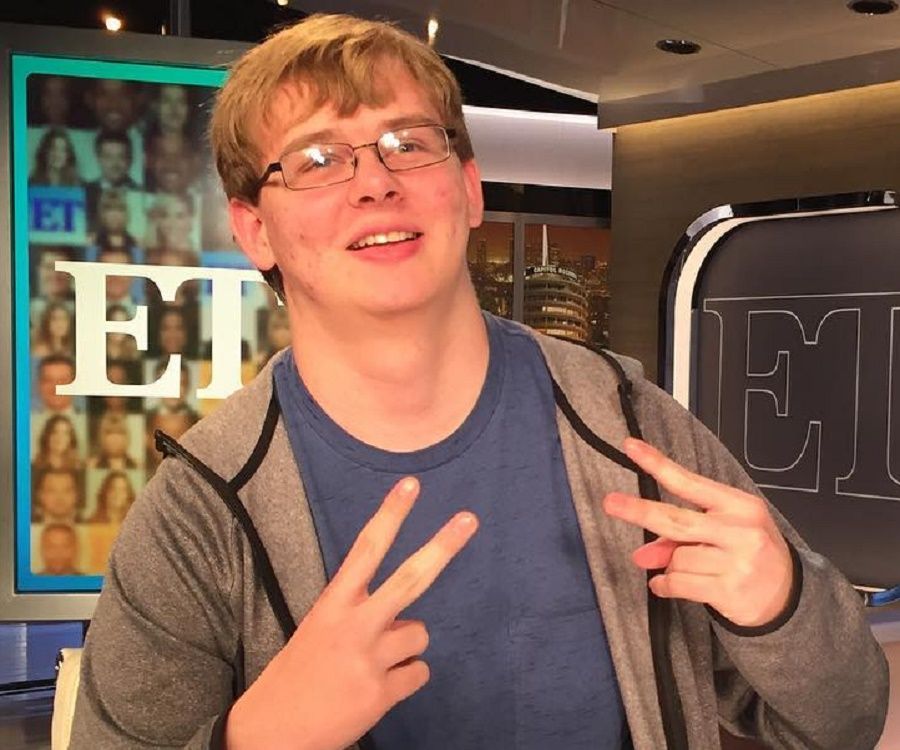 Controversy
What happened to CallmeCarson and Katerina?
In March 2020, Carson addressed his mental breakdown on Twitter. He later admitted his girlfriend Katerina was cheating on him with his close friend, a fellow YouTuber Fitz. He clarified that the pair knew he was going through difficult times, but they still hurt him. Later more boyfriends of Katerina were revealed, and it shook their fanbase to the core. They include her manager, a streamer, and a couple of more unknown people.
This controversy divided their groups. Many fans blamed Kate and Fitz. Many were there to sympathize with Fitz. Later Carson apologized to Fitz and Kate for bringing their personal issue among people. His fans really hated the pair, and that made their personal as well as professional life miserable. Fitz apologized genuinely, but Kate updated that she was not in a relationship with Carson. That enraged fans even more, and she was even more subject of hatred.
On April 26, 2020, Carson officially returned to create content, and he started to lighten up and even joked about getting cheated. He revealed seeing therapy and creating content keeps his mind his peace.
CallmeCarson's Net Worth
How much is CallmeCarson's Net worth?
CallmeCarson is a mega YouTuber with 3.19 subscribers. His major source of income comes from YouTube ads. His other sources of income tend to be brand deals and paid sponsorship as well. In 2020, his estimated net worth is $80,000 and $ 90,000 approximately.
Trivia
He has more than 3 million subscribers and 2.2 million followers on Instagram.
His first YouTube channel was titled " BlewCrewPros."
He was cheated on by his girlfriend Kate with his close friend Fitz.
His net worth is about $90,000.

Carson co-hosted a podcast on entertainment and gaming with The Narrator and Raccoon Eggs.

CallmeCarson and MrBeast are famous American YouTubers loved for their funny videos.

During Disney Television Animation, Carson is said to have met Dan Povenmier, Phineas and Ferb.
Video
Image Credit – @CallmeCarson Instagram
View this post on Instagram