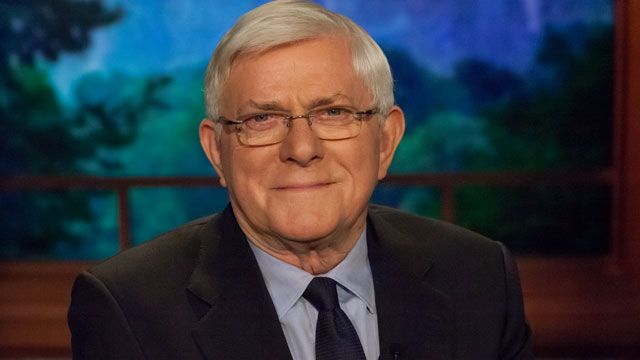 Who Is Phil Donahue?
Born on December 21, 1935, in Ohio, Phil has an impressive personality. He is famous for his talk show, the Phil Donahue Show, which was the first of its kind, and ran for around 29 successful years on America's National Television. It started in Ohio in 1967 and ended in 1996. He has been called the "king of daytime talk" who initiated the trend of one-on-one audience participation in his show and later was adopted by many other talk shows. Phil brought up the current issues of the time and discussed them on his talk show. Phil became a co-director along with Ellen Spiro and made a documentary film, Body of War, in 2006. Phil is a winner of 20 Emmy Awards, and in 1987, he received the Maggie Award.
Phil Donahue's Quick Bio
| | |
| --- | --- |
| Birth Name | Phil John Donahue |
| Born | December 21, 1935 (Age 85) |
| Gender | Male |
| Profession | Film producer, show host |
| Birth Sign | Sagittarius |
| Country | United States |
| Nationality | American |
| Religion | Christian |
| Height | 6 ft .5 in (183 cm) |
| Weight | 85 kg or 187 lbs |
| Hair Color | Grey |
| Eye Color | Green |
| Sexual Orientation | Straight |
| High School | St. Edward High School |
| College | University of Notre Dame |
| Net Worth | $150 million |
| Profile | Instagram |
| Genre | Topical talk shows |
| Works | The Phil Donahue Show |
Phil Donahue's Career
What is the success story of Phil Donahue?
Phil initiated his career by working as a production assistant at KYW radio and television in 1957. Then he became a commentator for the CBS Evening News and soon became an anchor of the newscast at WHIO-TV in Ohio. He soon started interviewing famous personalities like John F. Kennedy, Johnny Carson, Muhammad Ali, Noam Chomsky, etc. These interviews brought him national recognition.
Phil left WHIO and started his talk show in Dayton, the Phil Donahue Show, in 1967. The show became a hit soon, and in 1970, it began featuring on the National level. The show moved from Dayton to New York City. For several years, it was the only talk show which ran so many years continuously.
Phil also co-hosted a television series show called the U.S.-Soviet Space Bridge. It appeared during the Cold War in 1980, along with the Soviet journalist Vladimir Posner. He also co-directed a documentary film, Body of War, about an Iraq war veteran and his after-war problems.
Phil Donahue's Personal Information
What is the physical appearance of Phil Donahue?
Phil Donahue is 6 ft in height and weighs around 85kg. He is an expert in impressing people with his fantastic talking skills.
He has green eyes and grey hair.
Phil Donahue's Relationship
What is the relationship status of Phil Donahue?
Phil married in 1958 to Margaret Cooney, which ended with a divorce in 1975. He has five children with her- Michael, Kevin, Daniel, Mary Rose, and James. Then in 1980, Phil married Marlo Thomas and is currently living with her in Manhattan.
Phil Donahue's Net Worth
His net worth of Phil is a whopping $150 million. He has a super successful career in the broadcasting field and has been honored with many awards in his career. He has also made a film that was a success. Moreover, he also co-hosted a talk show and signed contracts that earned him good wealth and fame.
Some Quick Trivia
Phil hosted his talk show where he discussed topics that no one else dared to talk about.
The Phil Donahue Show continuously ran for 29 successful years.
He has won 10 Emmy Awards for best television talk show host.
The other 10 Emmy awards he won for his show.
Phil has five children and a net worth of $150 million.
People Also Search For Juan Williams and Kevin Feige