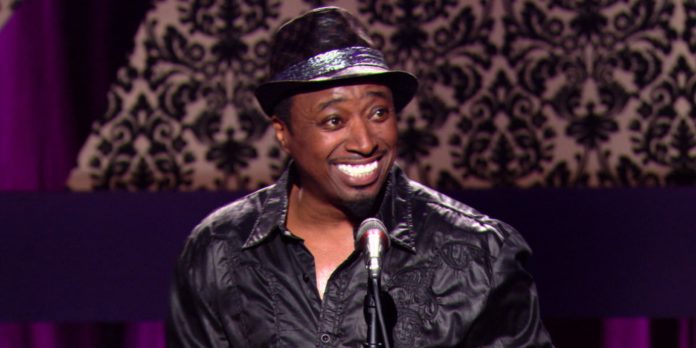 Who is Eddie Griffin?
Eddie Griffin is one of the popular actors and comedians of America was born on 15th July 1968. The 52-year-old, before his comedy career, had a life full of uncertainty. He became a part of the US navy but soon was dismissed as he used marijuana. He also ended up in jail for six months as he was charged with an assault after a fight.
Griffin first performed his stand-up in 1989 at a comedy club's open-mic just for a simple reason to win a bet but ended up winning standing ovations for his jokes with family stories. That night helped him get into gigs across the town and also in Los Angeles.
Griffin was born in Kansas City, Missouri, to Doris Thomas and Eddie Griffin, Sr. He has two siblings, Luther and Wilbert. He attended Lincoln College Preparatory Academy High School in Kansas City, Missouri, where he was voted class clown three years in a row. After marrying at age sixteen, he divorced a year later.
Griffin has been married four times. He married his first wife, Carla, in 1984; he was 16 years old. They were together for 13 years before divorcing. He married his second wife, Rochelle, in 2002, but they have since divorced. On September 8, 2011, he married Nia Rivers. However, they filed for divorce after one month of marriage, citing irreconcilable differences. They were officially divorced six months later. Comedian Eddie Griffin's stand-up career began when he accepted a dare from his cousin to take the stage on an amateur night at a local comedy club.
Quick Bio
Name

Edward Griffin

Eddie Griffin

Born

July 15, 1968

Gender

Male

Profession

Actor, Stand-up comedian

Birth sign

Cancer

Country

Kansas City, Missouri, US.

Nationality

American

Religion

Jehovah's Witnesses

Ethnicity

African-American

Height

170 cm

5 ft 6 in

Weight

75 kg

Eye Color

Brown

Hair Color

Black

Father

Eddie Griffin Sr.

Mother

Doris Thomas

Spouse

Carla Griffin

Roshelle

Nia Rivers

Ko Lee Griffin

Children

10 Children

Alexa Griffin, Eddie Griffin Jr. And 8 others.

Sexual Orientation

Straight

Profile
Instagram
Career
Eddie Griffin has made his way in several comedy films like The Meteor Man, Double Take, Scary Movie3, Undercover Brother, Nobit and many more. His roles in Undercover Brother and the sequels of Deuce Bigalow in the years 1999 and 2005 are well known.

Apart from the comedy movies, Griffin has also starred in action and thriller dramas like John Q and Urban Justice. Griffin is popular for depicting Eddie Sherman in the 1996-2000's American sitcom called Malcolm & Eddie. His performance in the Chappelle's Show is also very famous.

Eddie Griffin also made his appearances in several tracks and albums like in two music tracks of Dr Dre's album in 1999, in one track from The D.O.C's album in 1996. He was also seen in the commercial series called Man Laws for the American company called Miller Beer.

Griffen's comedy special called E-Niggma was released in 2019 December on Showtime, where he speaks about his career, personal life, and struggles in real life.

Eddie Griffen got into an accident while promoting a film in a charity race in 2007 March.

In 2011, Comedy Central released Griffin's stand-up comedy special You Can Tell 'Em I Said It on DVD.
Personal Information
What keeps Eddie Griffin fit?
Eddie Griffin's fitness is not much talked about. He is 1.7m tall and weighs 75kg. The TThe52-year-old actor-comedian remains perfectly healthy.

Also, read about Boy George.
Relationship
Griffin has married four times and has 10 children.

Griffin was only sixteen when he first married Carla Griffin in 1984. He then married Rochelle, his second wife, in the year 2002. He married his third wife, Nia Rivers, on 8th September 2011 but soon after their first month of marriage, the couple filed for divorce.

In July 2017, Griffin got married to KO Lee Griffin, who is his fourth wife.
Eddie Griffin Net Worth
Eddie Griffin's net worth is estimated to be $4 million.
Trivia
Griffin's genres of comedy include observational comedy, satire, blue comedy and improvisational comedy.

He speaks on racism, politics, religion, African-American culture and many more in his stand-ups.

During the Covid-19 pandemic, Griffin was reported to deliver meals to frontline health workers.
View this post on Instagram

People Also Search For Anthony Anderson and Michael Blackson