Simmons was born on December 18, 1999, in Birmingham, Alabama. He was raised in a home with his mother, cousin, brother, sister, and grandfather. Simmons attended Clay-Chalkville High School in Clay, Alabama, though he dropped out following "Rubbin Off the Paint;" he graduated in May 2018. He is also related to fellow rapper YBN Manpreet.
After continuously uploading songs on YouTube, he received more than 50 thousand 'SoundCloud' plays of his single, 'Why.' In 2017, he released 'Rubbin' Of the Paint', and this proved to a career breakthrough for him. He released his next popular song, 'Bounce Out With That,' in 2018.
After Lil Yachty teases him about his "dislikes," YBN Nahmir announces his "break" on OCTOBER 15, 2021. Rappers frequently participate in lighthearted online discussions in which they openly make fun of one another. When one artist takes a tiny verbal dig at another, it typically makes for entertaining moments, but Lil Yachty's reply to YBN Nahmir's tweet resulted in the latter being bombarded by trolls.
Nahmir praised his own work by retweeting a YouTube screenshot of his song "Soul Train" from Visionland, which he released in March. Yachty couldn't help but point out the glaring figures from YouTube in a casual tweet that was similar to hundreds of others from musicians like himself.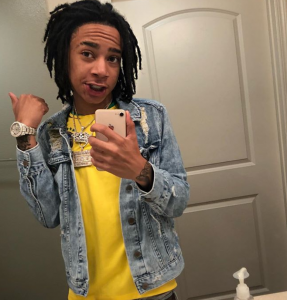 Nicholas Simmons (a.k.a YBN Nahmir) is an American songwriter, rapper, and actor. He is best known for his singles like "Bounce Out With That" & "Rubbin Off the Paint".
Quick Bio
| | |
| --- | --- |
| Name | Nicholas Simmons |
| Nickname | YBN Nahmir |
| Date of Birth | December 18, 1999 |
| Age | 20 years old |
| Profession | Rapper |
| Nationality | American |
| Birthplace | Birmingham, Alabama |
| Birth country | United States |
| Birth sign | Sagittarius |
| Hair Color | Black |
| Eye Color | Black |
Early Life
YBN Nahmir was born Nicholas Simmons on December 18, 1999, in Birmingham, Alabama. He grew up with his mother, brother, cousin, sister, and grandfather. Simmons attended Clay-Chalkville High School but dropped out after his single "Rubbin Off the Paint" success".
When he was 14 years old, he received Xbox 360 as a Christmas gift. He started playing rock band on the console, which helped to find his interest in music. Afterwards, he started playing GTA V, and during the GTA V live stream, he used to do freestyle rap with his friends.
He played many video games, such as 'Rock Band' and 'Grand Theft Auto V.' He used to record his video games to gain subscribers on his 'YouTube' channel. When he was not busy gaming, Simmons used to hang out at 'Xbox Live' parties.
Career
At 17, he formed the hip hop group YBN (Young Boss Niggas) in April 2017 and his 6 friends YBN Almighty Jay, YBN Cordae, YBN Glizzy, YBN Manny, YBN Walker, and YBN Ceylon.
As a composer and collaborator with fellow YBN member YBN Almighty Jay, he released their first song on Youtube called "Hood Mentality".
The song, 'Hood Mentality,' proved to be dud and received no significant views. He continued uploading other songs for the next two years, but nothing positive really came his way.
In July 2018, he announced his Europe tour along with his 'YBN Collective' members, YBN Almighty Jay and YBN Cordae. He also plans to release 'YBN: The Mixtape' later in 2018. The mixtape will feature artists such as Gucci Mane, Machine Gun Kelly and Lil Skies. Simmons was also signed by 'Atlantic Records' in 2018.
Relationships
YBN Nahmir is dating Alycia Tyre, who is popularly known as Sahlt.
Personal Information
He is 5 feet 7 inches tall and weighs approximately 65 kg. He has black coloured hair and eyes.
Moreover, he has a fit and healthy body. His zodiac sign is Sagittarius.
Nahmir cites E-40 and other San Francisco Bay Area rappers as his main influences.
YBN Nahmir Net worth
YBN Nahmir is a popular American rapper, and he makes the majority of his income from this profession as a rapper. He has an estimated net worth of $1 million in 2020.
Facts
Simmons loves playing video games like Rock Band and GTA V on his Xbox 360.
His first song was called "Mopsticks", which was uploaded on his Soundcloud in September 2016.
Simmons currently lives in Los Angeles, California.
Simmons used to freestyle in Xbox Live parties while playing Grand Theft Auto V, and he formed the Young Boss Niggas collective with a group of buddies.
Social Media Profile
View this post on Instagram
People Also Search For Nikki Sixx and Jared Dines