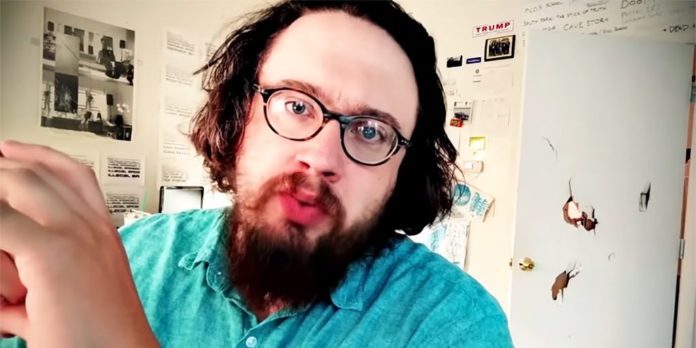 Sam Hyde is a celebrated American Youtuber, actor, writer, comedian, and theatre artist. He is the creator of the Million Dollar Extreme sketch comedy group.
Who is Sam Hyde?
Samuel Whitcomb Hyde, known mainly for his internet presence Sam Hyde is a famous Youtuber, actor, theatre personality, and writer. He got prominence as a social media star for his comedy content. The Youtuber was mistakenly blamed for mass shootings several times, for which he often makes appearances in the news. Hyde is eminent for co-creating the sketch and the satire group Million Dollar Extreme in 2013, along with Nick Rochefort and Charles Carroll. As a writer, he wrote scripts and wrote down the book How to BOMB the U. S. Gov't: The OFFICIAL Primo(TM) Strategy Guide to the Collapse of Western Civilization.
The Youtuber has appeared in shows like Happy World Daddy, 2070 Paradigm Shift, HydeWars, Million Dollar Extreme Presents World Peace, and others. His videos are highly marked by comedy which seems quite amusing to the audience. Hyde has several Youtube channels. The channel MillionDollarExtreme is unavailable, but the group has created two more channels, MillionDollarExtreme2 and Million Dollar Extreme 3. Aside from Youtube, Hyde is famous on other social media platforms too. He has 42 thousand of followers on Facebook. His Instagram and Twitter accounts have been suspended.
Along with fame, Hyde has gained criticism for his content. He was criticized by many the news outlets in the USA. His personal Youtube channel, The New Pill, has 66.5 thousand subscribers.
Sam Hyde Quick Bio
| | |
| --- | --- |
| Birth Name | Samuel Whitcomb Hyde |
| Birth Date | April 16, 1985 (Age 36) |
| Birth Place | Fall River, Massachusetts, USA |
| Birth Sign | Aries |
| Gender | Male |
| Other Names | Sam Hyde |
| Parent(s) | N/A |
| Sibling(s) | N/A |
| High School | Wilton High School |
| College | Carnegie Mellon University, Rhode Island School of Design |
| Education | Graduated in film studies |
| Profession | Youtuber, actor, writer, comedian, and theatre artist |
| Active Years | 2013- Present |
| Country | United States of America |
| Nationality | American |
| Height | 6 feet 3 inches |
| Weight | 82 kg |
| Eye colour | Light brown |
| Hair colour | Light brown |
| Sexual Orientation | N/A |
| Relationship | N/A |
| Spouse(s) | N/A |
| Boyfriend(s) | N/A |
| Children | N/A |
| Tattoos | N/A |
| Social Media Handles | Facebook |
| Net worth | $1 million |
Sam Hyde Career
What are your career highlights Sam Hyde?
Sam Hyde is a prominent Youtuber, actor, and comedian. He got famous on social media platforms first. Alongside Nick Rochefort and Charles Carroll, Hyde created the Youtube Million Dollar Extreme in 2007. Initially, the channel was not active. The trio uploaded its first video in 2013. The channel had more than 160 thousand subscribers. It later became famous as a sketch comedy or satire group.
The channel is not available on Youtube currently. It is probably suspended for its guidelines violation. Their second channel, MillionDollarExtreme2, in 2014. Southland Extreme Interviews is the first video of the track, released in July 2014. Their third channel Million Dollar Extreme 3, in 2016. 100 CONTEST insane giveaway SUPREME OFFERS is the first video it uploaded in 2016. Hyde and his group started the TV show Million Dollar Extreme Presents: World Peace in the same year.
Sam Hyde's Personal Information
Sam Hyde has not shared information about his family background. On April 16, 1985, he was born in Fall River, Massachusetts, USA. Hyde attended Wilton High School and graduated from Rhode Island School of Design.
Sam Hyde Relationship
Sam Hyde is possibly straight and has not married anybody yet. He has kept his private life away from the limelight.
Sam Hyde's Net worth
Sam Hyde's net worth is $1 million.
Some Quick Trivia
Sam Hyde is 6.3 feet tall.
He has light brown hair.
Hyde's birth name is Samuel Whitcomb Hyde.
People Also Search For Guava Juice and Charlie Berens