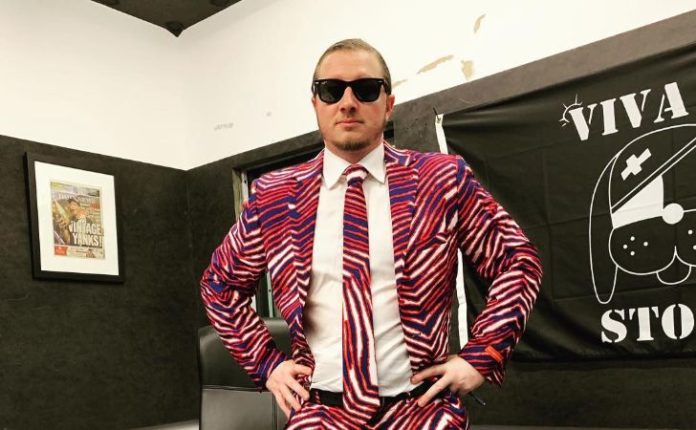 Who is a PFT Commenter?
PFT Commenter is one of the most famous fictional sportscasters in the United States of America. First appearing in ProFootballTalk.com, PFT became popular over the years. As his original identity was not disclosed initially, the audience became more curious. Hence the character gained unimaginable fame. PFT is a satirical character that became remarkable after appearing in Barstool Sports' podcast show Pardon My Take. In mid-2018, PFT revealed his identity as Eric Sollenberger. He is the co-host of the show, Pardon My Take alongside Dan Katz, AKA Big Cat.
Eric is also associated with the political debates who appeared in Republican presidential debates in 2016. He is an active Twitter user whose id is @PFTCommenter. Eric is a sportswriter who has published in sports sites like Kissing Suzy Kolber, Football Savages, and SBNation. The sportscaster has his website, StrongTakes.com. The sports journalist has been a football player and usually covers the National Football League in his show. Eric released his e-book titled Goodell vs Obama: The Battle for the Future of the NFL in 2014, which has an imaginary storyline involving the ex-US president Barack Obama.
Quick Bio
| | |
| --- | --- |
| Birth Name | Eric Sollenberger |
| Birth Date | January 31, 1984 (Age 37) |
| Birth Place | United States of America |
| Birth Sign | Aquarius |
| Gender | Male |
| Other Names | PFT Commenter, Pro Football Talk Commenter, PFT, Marlins Woman, Wayne Tables |
| Parent(s) | N/A |
| Sibling(s) | N/A |
| High School | Herndon High School |
| College | James Madison University |
| Education | Graduate |
| Profession | Sportscaster, Sports Journalist, Sportswriter |
| Active Years | The 2000s- Present |
| Country | United States of America |
| Nationality | American |
| Ethnicity | White |
| Height | 5 feet 10 inches |
| Weight | N/A |
| Eye colour | N/A |
| Hair colour | Brown |
| Sexual Orientation | Straight |
| Relationship | N/A |
| Spouse(s) | N/A |
| Girlfriend(s) | N/A |
| Children | N/A |
| Tattoos | N/A |
| Social Media Handles | Twitter |
| Net worth | $2 million |
Career
Why is PFT Commenter famous?
PFT Commenter, AKA Eric Sollenberger, is a sports journalist and sportscaster. PFT is a fictional character portrayed by Eric in the podcasts of the National Football League. According to the sources, Eric has also played football in his college days. The character first appeared as a commentator on ProFootballTalk.com. The sarcastic character was loved and supported by the audience; hence it featured on several other platforms. Eric then wrote frequently on SBNation. He wrote about sports on other sites such as Kissing Suzy Kolber and Football Savages.

PFT made radio appearances in the PFT Live show hosted by Mike Florio in 2015 and The Right Time hosted by Bomani Jones. He is also a political commentator who featured in Republican Party presidential debates in 2016. In the same year, he joined Barstool Sports. He co-hosts the podcast Pardons My Take alongside Dan Katz. The show broke many records of other sports programs and ranked number one. Both the hosts appeared on SportsCenter later on. The identity of the PFT Commenter was not disclosed for a long time, but it was declared in 2018. When asked about the character revelation, Eric said that he always wears sunglasses to hide his identity. People used to call him PFT instead of his real name. Gradually it became an open secret to all. Thus his identity was revealed.

PFT Commenter attempted out as a placekicker for the XFL's DC Defenders in January 2020, after being coached by Jeff Fisher and Morten Andersen, in response to former NFL wide receiver Chad Johnson revealing his intention to try out for the XFL as a kicker (before quickly cancelling). PFT Commenter's distinctive sunglasses were changed with tinted goggles during his tryout, and his helmet had a single bar face mask, which has long been banned in professional and collegiate football. The Defenders did not choose him in the end; instead, Tyler Rausa, who was also at the audition, earned the kicking position.
Personal Information
What is PFT Commenter's family background?
There is no information about PFT Commenter's family background or members. He was born on January 31, 1984, in the USA. Eric is 5.10 feet tall, but his body weight is not known. He always wears sunglasses, and when asked the reason, PFT said it is to hide his identity. He attended Herndon High School as well as James Madison University for higher studies.
Relationship
Is the PFT Commenter straight?
PFT Commenter is possibly straight. But the personality kept his private life away from the limelight.
Net worth
How much does a PFT Commenter earn?
PFT Commenter's net worth is two million dollars.
Trivia
PFT Commenter's real name is Eric Sollenberger.

He always wears sunglasses.

He is 5.10 feet tall.
View this post on Instagram
People Also Search For Joe Lacava and Michael Beasley