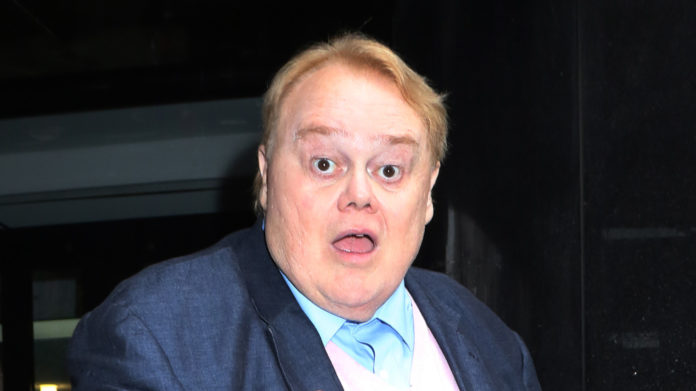 Louie Anderson is a popular American comedian, actor, TV show host, and screenwriter. He has also created the cartoon series called Life with Louie.
Who is Louie Anderson?
Louis Perry Anderson, better known by his stage name Louie Anderson, is a versatile artist. He is a comedian, actor, host, and screenwriter. He has hosted shows like Family Feud and played a supporting comedy character in Tv series Baskets. He has won multiple awards for his performances in different shows as different characters. He is also a writer and has penned down three books.
Quick Bio
| | |
| --- | --- |
| Birth Name | Louis Perry Anderson |
| Birth Date | March 24, 1953 (Age 68) |
| Birth Place | Saint Paul, Minnesota, USA |
| Birth Sign | Aries |
| Gender | Male |
| Other Names | Louie |
| Parent(s) | Ora Zella Anderson, Louie William anderson |
| Sibling(s) | Tommy Anderson |
| High School | Johnson Senior High School |
| College | N/A |
| Education | High School Graduate |
| Profession | Comedian, Actor, Host, Author |
| Active Years | 1984- Present |
| Country | USA |
| Nationality | American |
| Height | 5 feet 7 inches |
| Weight | 85 kg |
| Eye color | Dark brown |
| Hair color | Dark brown |
| Sexual Orientation | Straight |
| Relationship | Single |
| Spouse(s) | N/A |
| Children | N/A |
| Tattoos | No |
| Social Media Handles | Instagram |
| Net worth | $15 million |
Career
What does Louie Anderson do?
Louie Anderson is a popular personality in America. He has hosted many shows in his career. But he is better known as a stand-up comedian. Anderson received his first major offer in the 1984 TV show Today Show where he used to do stand-up comedy. The show paved the way for him to multiple offers in the future. In 1985, Louie became a part of ABC network's new show Pilot. Soon he got an offer to play a role in the film series Ferris Bueller's Day Off. He did another ABC network's reality show recently titled Splash. In 1987, Anderson created his own comedy show Comedy Special. Coming to America was the first film where he featured as an actor alongside Arsenio Hall and Eddie Murphy.

In 1989, he appeared as a guest star in The Jim Henson Hour. He appeared in his own written animated show Life with Louie, which was telecasted on weekends. He received multiple awards for his acting in the show. He then appeared in popular TV shows like Family Feud, Weakest Link, Scrubs, Grace Under Fire, Touched by an Angel, Chicago Host, Tom Goes to the Mayor, etc. In 2012, Anderson's other stand-up comedy show came up with Louie Anderson's title: Big Baby Boomer. In 2016, he was featured in a comedy series named Baskets.

He is also a renowned author who has written three books: The F Word: How to Survive Your Family, Dear Dad: Letters from an Adult Child, and Goodbye Jumbo…How Cruel World. He has 51.2k followers on his Instagram account and 43.4k followers on his Twitter.
Personal Information
What is the physical appearance of Louie Anderson?
Louie Anderson is 68 years old American comedian who is 5.7 feet tall and weighs 85 kg. His skin tone is white, and his eyes and hair color are dark browns. He was born on March 24, 1953, in Saint Paul, Minnesota, USA. His parents are Ora Zella Anderson, Louie William Anderson, and Tommy Anderson is his sibling. He attended Johnson Senior High School, and his sexual orientation is straight. He was born and brought up in the USA and has American nationality.
Relationship
Is Louie Anderson married?
Louie Anderson is not married and is single currently. No rumors of him being in a relationship came up to the date. But people say he married his girlfriend from high school in 1985. The marriage lasted for only four weeks. He doesn't have any children.
Awards and Achievements
What are Louie Anderson's achievements?
Anderson won a Daytime Emmy award under the category of Outstanding Performer in an Animated Program for his show Life with Louie. In 2016 he won the Critics Choice Television Awards for his contribution.
Net worth
What is Louie Anderson's income?
Anderson is a successful actor, comedian, and writer. His net worth is $15 million at present.
Trivia
Louie made his debut with the show Today show in 1984.

He is the winner of the Daytime Emmy Award.

Anderson is single.

He featured in the comedy film Baskets.
View this post on Instagram
People Also Search For Andrew Schulz and Mau Nieto