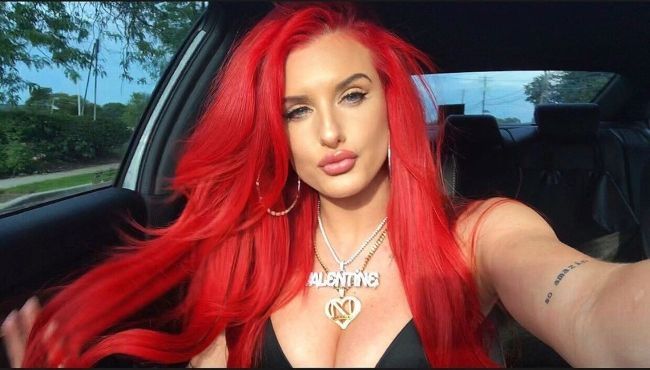 Who is Justina Valentine?
Justina Valentine (born 14 February 1987) is a singer, songwriter, rapper, and model from New Jersey, USA. She was blessed to be taken into a family of musicians. She was talented in her childhood days. She was a good singer, but she also was an excellent dancer. She tried theatre at an early age, which progressed her ability to perform on the stage. She began recording her music in 2006.
She is also famous for releasing the EP 'Valentine' and the mixtapes' Route 80,' 'Red Velvet,' and 'FEMINEM.' On television. Valentine appears as a regular cast member in the sketch comedy 'Wild 'N Out.' She also appeared on the reality game show 'The Challenge: Champs vs Stars.' As a singer, the American artist has been a part of several tours.
She began to garner acclaim following her 2012 performance at the VANS Warped Tour. She put out a mixtape called Route 80 and a 2013 EP titled Valentine the following year.
She is popular on Instagram with more than 3.5 million followers, and she also has more than 570,000 subscribers on YouTube. She became famous for collaborating with Fetty Wap's rapper named "Candyland." She is also famous for her cast on the famous improv show Wild' N Out. Discover more about her Age, Height, Weight, Relationship, Networth, and Full bio below.

Justina Valentine Quick Bio
Name
Justina Valentine
Born
14 February 1987 ( 33 years old )
Gender
Female
Profession
Musician
Birth Sign
Aquarius
Country
USA
Nationality
Ameican
Religion
N/A
Ethnicity
White
Height
168 cm (in centimeters)
1.68 m (in meters)
5 feet 7 inches (in feet and inches)
Weight
57 kg (in kilograms)
126 lbs (in pounds)
Hair Color
Red
Eye Color
Blue
Father
N/A
Mother
N/A
Spouse
N/A
Children
N/A
Net Worth
$1.5 million
Profiles
Facebook, Instagram, Twitter, YouTube
Justina Valentine Career
What is Justina Valentine famous for?
Musician – Justina Valentine is a famous singer, model, songwriter, and rapper. She is known for her witty lyrics, catchy hooks, and audiences phrase her chorus to be irresistible. She has also gained popularity for her fashion attire in her music videos. She is regarded as the "Queen of the Underground." Her famous single includes "Candy land," "Unbelievable," and "All the Way."
Her musical journey started in 2012 when she released her first mixtape named Route 80. Her couple of songs got quite admirable reviews, and she was encouraged to continue. Then in 2013, she released her first EP called "Valentine," which debuted at no 38 on iTunes R&B charts. The song "Candyland" with Fetty Wap was a super hit, and Justina began to gain the popularity she deserved. She released her second mixtape titled "Red Velvet." She released her highly praised studio album "Scarlett Letter."
TV Host – She also joined MTV improv comedy show 'Wild 'N Out' for season 8 in 2016, and she has appeared regularly on the show since then. She hosted another MTV show named singled out with fellow rapper Conceited. She has also participated in the MTV reality series "The Challenger". She has also hosted a couple of other shows in 2019, such as "Basic to Bougie', "Liplocked," and "Justina Makes Over Your Man."
Famous Tours – She was also part of several popular musical tours. Some of the most popular tours are; Vans Warped Tour and Relieved Tour. Scarlett Letter Tour and "Hate Us Cuz They Ain't Us Tour."
On 3 December 2021, Gabby B continued her breakthrough year 2021 with the release of her highly anticipated single, "Pretty Girl Lit." Justina Valentine, the fiery redhead from MTV's Wild' n Out and other shows, is featured on the tune.
Justina has wowed fans on Wild' N Out with her killer bars and femcee talents. Justina's flirting with other guests and Wild' N Out females have also gone viral. Viewers have always suspected Justina of combining work and pleasure.
Justina Valentine Personal Information
How tall is Justina Valentine? Justina stands at 5 feet 7 inches and weighs about 57 kg. The "Wild 'n Out" cast member has red-colored hair and blue-colored eyes. She is regarded as one of the most fashionable artists, and her signature attire is vibrant red-colored tresses.
From the early days, she was a talented singer and dancer. She did theatre from an early age which helped in her stage-level performance. Fans admire her confident personality, and she has a perfect sense of humor.
Justina Valentine Relationship
Is Justina Valentine in a relationship? Currently, Justina Valentine is not in a relationship, and she is still single. But she was involved in a romantic relationship in the past, but she kept her love life private, and not much has been known about her previous boyfriend.
Justina Valentine's Net Worth
What is Justina Valentine's net worth? Her source of income is based on brand deals, hosting of her shows, paid sponsorship, and her YouTube channel. She earns approximately $15,000 annually on brand deals, and her shows and salary result in roughly $100,000 per year. In 2020, her net worth was estimated to be $1.5 million.
Justina Valentine Controversy
She was deep in controversy when pictures were leaked online of her kissing a girl. Later the girl was known as Sommer Ray. Fans were visibly upset that she kept her sexuality, and many were confused if she was bisexual.
Trivia
She used to perform in the theatre when she was younger.
She released her first mixtape in 2012.
She was the first cast for the MTV comedy improv show "Wild' N Out" Season 8 in 2016.
Her most hit single was "Candyland" with Fetty Wap.
She got into a controversy when her pictures kissing Sommer ray were released online.
People Also Search For Monica Denise Arnold and Aitch