Who is Coolio?
The famous American rapper, record producer, actor, and chef Artis Leon Ivery Jr. was born on August 1, 1963. This renowned Grammy Award-winning artist was widely known by his stage name Coolio. His albums My Soul (1997), Gangsta's Paradise(1995), and It Takes a Thief (1994) were a massive success in the '90s. His single hits Fantastic Voyage (1994), C U When U Get There (1997), Gangsta's Paradise (1994), and 1,2,3,4 (Sumpin' New) got him The Grammys.
Coolio's journey of independently releasing his albums started with the rap of Aww; Here It Goes theme song. This talented rapper then became a chef, created his web series, Cookin' with Coolio, and released a cookbook.
Coming from a broken home, Coolio fought poverty and drug addiction to become one of the most successful rappers of the 1990s. As a young boy, he was small, asthmatic, brilliant, and a bookworm, often making life outside the home difficult. His parents divorced when he was 11, and searching for a way to fit in at school, he started running with the Baby Crips and getting into trouble.
Even so, he still wasn't really accepted and was never formally inducted into the gang; he tried to make up for it by creating a menacing, unstable persona and carrying weapons to school, and his once-promising scholastic career wound up falling victim to his violent, poverty-stricken environment.
His famous albums are 'It Takes a Thief,' released in 1994, 'Gangsta's Paradise,' which came out in 1995, and 'My Soul' (1997). The second album on the list, 'Gangsta's Paradise,' won him the Grammy Award. He has given many hits like '1,2,3,4 (Sumpin' New)', 'Fantastic Voyage,' etc. Coolio became a member of the Gangsta rap group 'W.C. and the Maad Circle.'
Either a case of mistaken identity or taking the rap for a friend landed Coolio in jail for ten months when he was accused of trying to cash a money order stolen in an armed robbery. He turned 18 while incarcerated. Coolio learned his lesson, never wanted to go to jail again, and tried to escape that scene. But by 1985, he was addicted to crack cocaine. When he finally saw his life spiraling out of control, Coolio looked for help.
Quick Bio
Name
Artis Leon Ivery Jr., Coolio (Stage Name)
Born

August 1, 1963

Gender

Male

Profession

American Rapper, record producer, chef, actor

Birth Sign

Leo

Country

Compton, California, U.S.

Nationality

American

Religion
Not disclosed
Ethnicity

African – American

Height

5 feet and 8 inches

173 cm

1.73 m

Weight

75 kg

165.35 lbs

Hair Color

Black

Eye Color

Brown

Father

Artis Leon Ivey Sr.

Mother

Jackie Slater

Spouse

Josefa Salinas

Children

Gratis Ivey, Brandi Ivey, Artisha Ivey, Zhaneand Ivey, Darius Ivey, Artis Ivey III, Jackie Ivey, Milan Ivey, Shayne Ivey, Kate Ivey

Net Worth

$500 Thousand

Profile
Instagram
Career
What is the success story of Coolio?
Coolio started his career as a volunteer firefighter and security guard at the Los Angeles International Airport. Soon he started recording his songs and came to terms with the L.A. rap scene. In 1991, he joined W.C. and the Maad Circle headed by the rapper W.C. when his career as a rapper started. His solo 'Fantastic Voyage' brought him success, and it got third place in the Billboard Hot 100 list.
What do you Gonna Do? Coolio's first single was recorded in 1987. In 1991 he joined W.C. and The Maad Circle, a group piloted by rapper W.C. Ain't a Damn Thang Changed, the group's debut album, became a success regionally, with Coolio becoming a co-contributor for the win.

Coolio released It Takes a Thief with Tommy Boy Records, which was his first solo album. Fantastic Voyage, his lead single, was a massive success of the year, and the song made its place in The top 3 Billboard hot 100.

The album overall received considerable appreciation. Coolio's 1995 single Gangsta's Paradise for the movie Dangerous Minds was No.1 worldwide. His next album, My Soul though not a big success but had a major hit with his song C U When You Get There.

He received several awards, including The Grammys, and American Music Awards, and many others.
Personal Information
What is the height and weight of Collio?
He was born in the year 1963 is now 57 years old. His weight is 75kg, and his height is 1.73m

Also, read about Wilmer Valderrama.
Relationship
Collio married Josefa Salinas in 1996 on May 18 but got divorced in the year 2000. He has twin daughters Shayne and Kate and eight children Jackie, Zhaneand, Brandi, Milan, Grtis, Artisha, and Darius.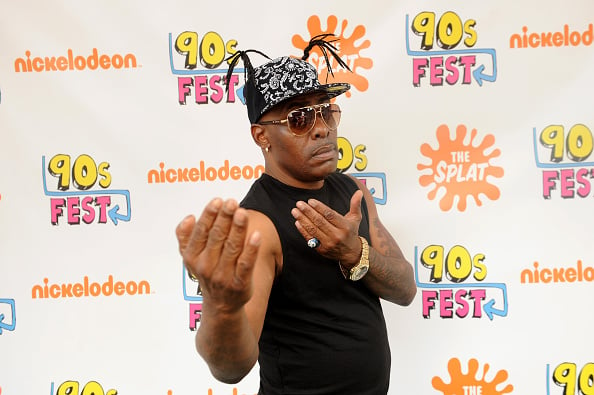 Coolio's Net Worth
His net worth is estimated to be around $500 Thousand. Since 1194 he has been standing as an idol in pop culture. He has released eight studio albums with several single hits, sold more than 70 million records, and has more than 70 television and film credits in his name.
Trivia
The greatest for the rapper was the success of his first solo album; It takes the thief.

He won Grammies for hit singles.

He appeared as a contestant on Celebrity Big Brother in 2009.

Coolio also performed in 2016 on ABC's Greatest Hits.

Coolio showed his talent as a rapper in the theme song of the Nickelodeon series.

He also came up with his cooking skills in a cooking book and web series.

Coolio's singles' Fantastic Voyage', 'It Takes a Thief,' 'Gangsta's Paradise' brought him success.

He later appeared on the tune "Coolio Interlude" from their Fuck Versatile album, released in 2021.
View this post on Instagram
People Also Search For Redman and Jadakiss