Who is Chester Bennington?
Late Chester Charles Bennington, popular as the lead vocalist of the band Linkin Park, was an American songwriter, singer and occasionally an actor. Apart from Linkin Park, Chester Bennington has also been a part of bands like Dead By Sun, Grey Daze, and Stone Temple Pilots as a lead vocalist. Bennington was also known as his generation's best artist in terms of rock music.
The singer-songwriter was born in Phoenix, Arizona, US., on March 20, 1976. He had his battle with substance abuse and depression from his childhood. Unfortunately, the 41-year-old hung himself to death in his home in Palos Verdes Estates, in California, on July 20, 2017.
It is believed that Bennington had been having a hard time dealing with the suicide of his friend, Chris Cornell, lead singer of Audioslave and Soundgarden. Bennington's suicide happened on the day that would have been Cornell's 53rd birthday. His parents divorced at the age of 11, and he had to move in with his father. In an attempt to numb his pain and loneliness, Bennington turned to substance abuse. His parents' separation affected him so much that he fell into marijuana, alcohol, cocaine, and LSD. Fortunately, after a while, he managed to overcome those addictions.
Quick Bio
Name

Chester Charles Bennington

Born

March 20, 1976

Gender

Male

Profession

American songwriter, singer, Occasional Actor

Birth sign

Pisces

Country

Phoenix, Arizona

Nationality

American

Religion

Christianity

Ethnicity

English, Dutch, German, Welsh Chester

Height

178 cm

5 ft 10 in

Weight

65 kg

Eye Color

Dark Brown

Hair Color

Black

Father

Lee Russell Bennington

Mother

Susan Elaine Johnson

Spouse

Samantha Marie Oil (1996-2005)

Talinda Bennington

Children

Jamie Bennington, Draven Sebastian Bennington, Isaiah Bennington, Tyler Lee Bennington, Lila Bennington, Lily Bennington and Tyler Bennington

Sexual Orientation

Straight

Profile
Instagram
Career
In 1993 Bennington released a three-track cassette with his first band, Sean Dowdell and his Friends. Later Bennington with Dowdell formed their new band called Grey Daze and recorded two albums Wake Me (1994) and No Sun Today (1997). Bennington left the band in the following year.

Bennington, frustrated, had almost quit his musical career before Jeff Blue offered him to audition with the other members of his future band Linkin Park. He had a successful audition with his future band. Despite making huge progress with his band's other vocalist Mike Shinoda, they struggled to find a record deal b ore Blue again helped the band sign with Warner Bros. Records.

Hybrid Theory, Linkin Park's debut album, was released through Warner Bros. Records on 24th October 2000. Shinoda and Bennington together contributed as songwriters for the album.

After the band's first success with Hybrid Theory, their second and third albums Meteora(2003) and Minutes to Midnight(2007) were consecutive successes. The band together won many awards, and Bennington's voice was recognized as emotional and high-pitched by All Music Guide.

On the fourth anniversary of Chester Bennington's death, Linkin Park fans will pay tribute to him on July 20, 2021.
Personal Information
What keeps Chester Bennington fit?
Chester

Bennington called himself a gym rat. He loved working out and was committed to staying in shape. Apart from being a fitness freak, he was also a big NBA fan.

Despite his physical fitness, he was said to have had mental health issues from his childhood and later, he also had to struggle with drug and alcohol abuse.

Also, Read about Billy Corgan.
Relationship
Bennington had his first son Jamie with the Elka brand in 1996.

Bennington, in 1996, married Samantha Marie Oil and had a child Draven Sebastian Bennington together. The couple later got divorced in 2005

Chester Bennington married Talinda Bennington in 2006 and together had twins Lila and Lily Bennington.
Net Worth
Chester Bennington had a net worth of $30 Million.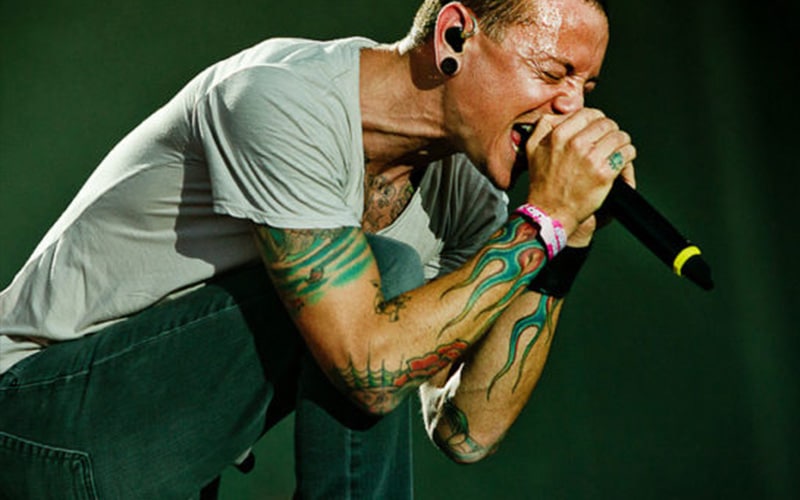 Trivia
Chester Bennington had many childhood traumas, which led to his mental health issues. The dark side of his personality was reflected in his songs.

Bennington was a co-founder of the band Dead by Sun and became a part of Stone Temple Pilots in 2013.

Slash rerecorded it with Lemmy on vocals, and the song was renamed "Doctor Alibi." A clip of the original Bennington track was finally released in May 2021.