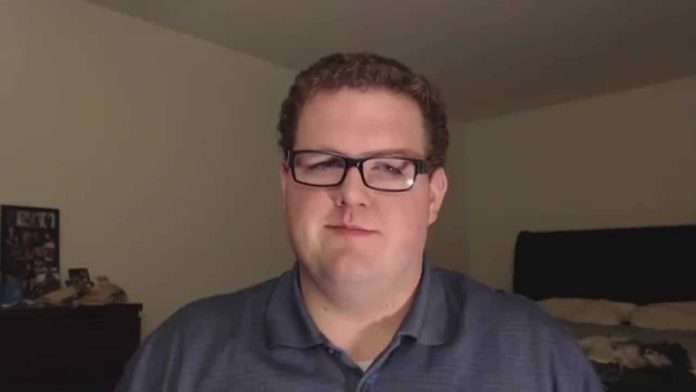 Bob MuySkerm's Quick Bio
| | |
| --- | --- |
| Name : | Bob Muyskerns |
| Nickname : | muyskerm |
| Date of Birth : | October 18, 1989 |
| Profession : | Youtuber |
| Nationality : | American |
| Birthplace : | Ohio |
| Birth sign : | Libra |
| Hair Color : | Dark Brown |
| Eye Color : | Dark Brown |
| Weight : | Unknown |
| Height : | 6 ft 4 inches |
Bob Muyskerm, (born, October 18, 1989), is an American Youtuber and Twitch streamer. He is best known as Professor Chaos and uploads gameplay videos on his Youtube and Twitch account. He created his channel on April 6, 2010, but didn't upload his first video until May 16, 2014. He started his channel by posting videos about the game Trove. His first name is Robert, or Bob, and he moved to North Carolina from Ohio. He married Mandy Muyskens.
Apart from YouTube work, Bob formerly worked as a truancy officer at a school in Cincinnati, Ohio and at a sushi bar as a bartender alongside Mark before opting to study law at law school, as part of becoming a future lawyer. For a time, Bob became involved with a local Cincinnati jazz band called The Cincy Brass. On June 28, 2014, Bob married his long-time girlfriend and fiancée, Mandy. The ceremony was attended by many of his friends, including Mark.
As of May 2020, Muyskerm has over 778k subscribers.
Before Fame
Muyskerm was born in Ohio, United States. Later, he moved to North Carolina and settled there. He started his journey to become a Youtuber by creating a Youtube channel on April 6, 2010.
Having a passion for playing video games, he decided to upload gameplay videos on his channel. He posted his first video on May 16, 2014.
His first gameplay video was about the game Trove which is a voxel-based sandbox game developed and published by Trion Worlds.
He continued uploading games videos and gained over 150,000 subscribers within 6 months. That's a huge milestone. Right?
Way to Go Muyskerm!
Gaming
Muyskerm plays a wide variety of games but mostly which are popular and hot available on stores like Steam and game jolt.
His favorite titles are Game of War, Garry's Mod, Five Nights at Freddy's, and Minecraft. Recently, Muyskerm loves playing the battle royal game called "Apex Legends" and World of Tanks.
He loves playing with his friend Markiplier, JackSepticEye, CoryxKenshin, PewDiePie, and so on.
Bob occasionally uses a high-pitched "Butters" voice for comedic effect, but often reiterates that he is using a voice modulator to achieve the effect, to the disappointment of some of the fan base.
It is often Bob that reprimands and pins the blame on the other two members of the group whenever they cause trouble.
Family & Relationship
Information about his parents is not available at the moment. Muyskerm is married to Mandy Muyskens. They don't have any children as of May 2020.
Net worth
According to different reports from online media, Muyskerm has a net worth of $1 million in 2020.
His main source of income is ads and sponsored videos on Youtube and Twitch. His net worth in the year 2019 is still under review.
However, the estimated net worth of Muyskerm was 2019 is $500k to $1 million.

Personal Details
Bob Muyskerms Zodiac sign is Libra. He has dark brown colored eyes and hair.
He is 6 feet 4 inches tall and weighs approximately 60 kg.
Muyskerms Trivia & Facts
Wanna know interesting facts about your favorite Youtuber Bob Muyskerms.
We have shared a list of interesting facts about him below:
Muyskerms is a close friend of Markiplier.
In the first 6 months since the posting of his first video, he accumulated more than 150,000 subscribers. His fan base rose to over 650,000 subscribers.
He has over 234k followers on his Instagram account: BobMuyskerns.
People Also Search For Brandon Farris and FaZe Rug