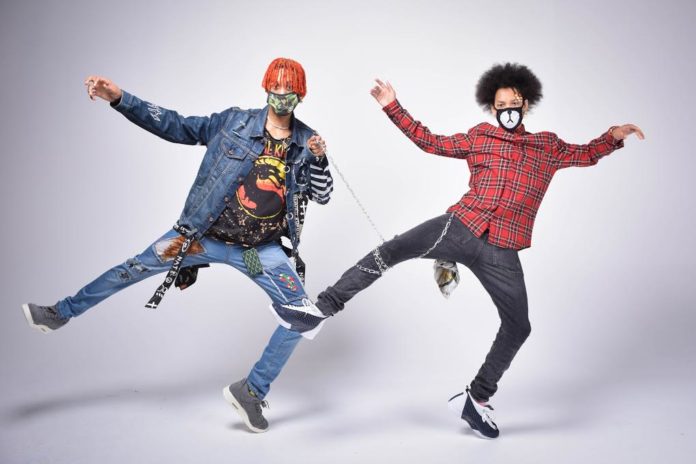 Ayo and Teo are well-known American brother duo associated with hip-hop music. They are famous both as dancers and musicians in hip-hop culture.
Who are Ayo and Teo?
Ayleo Bowles and Mateo Bowles, prominently known as Ayo and Teo, is the hip-hop duo hailing from the United States of America. They are siblings who have emerged as a delicate dance and rap duo in recent times. The brother duo has appeared in notable artists' music videos. They gained fame after featuring in Usher's song No Limit and Chris Brown's single Party. Ayo and Teo are internet sensations that have recently left their mark in hip-hop music. Power is the title of their only album. The hit singles of the brother duo include In Reverse, Rolex, Better Off Alone, Last Forever, Around The World, Up To Sum, Goin, and others.
Bring a Friend is the only extended play by the Bowles siblings. They are very famous among the youngsters for which they were nominated for the recognition of Favorite Musical YouTube Creator in the Nickelodeon Kids' Choice Awards in 2018. Unfortunately, Ayo and Teo could not bag the award. The Bowels brothers are still in their 20s and are widely famous on social media, with thousands of followers on each social networking platform. Their Youtube channel has 6.24 million subscribers.
Quick Bio
Birth Name

Ayleo Bowles and Mateo Bowles

Birth Date

Ayo- October 30, 1996 (Age 24)

Teo- August 29, 1999 (Age 22)

Birth Place

Ann Arbor, Michigan, USA

Birth Sign

Ayo- Scorpio

Teo- Virgo

Gender

Male

Other Names

Ayo and Teo

Parent(s)

N/A

Sibling(s)

N/A

High School

Willow Run High School

College

Washtenaw Community College

Education

N/A

Profession

Musicians, dancers, Youtubers

Active Years

2014-Present

Country

United States of America

Nationality

American

Height

Ayo- 6 feet 1 inch

Teo- 5 feet 8 inches

Weight

Ayo- 60 kg

Teo- 62 kg

Eye color

Dark brown

Hair color

Black and white

Sexual Orientation

Straight

Relationship

In relationships

Spouse(s)

Unmarried

Girlfriend(s)

Ayo- Vanna

Teo- Cleopatra

Children

None

Tattoos

Yes

Social Media Handles

Youtube

Net worth

$2 million
Career
What do Ayo and Teo do?
Ayo and Teo are American Youtubers as well as hip-hop artists. They became a recognized dance and singing duo in the States. The Bowles siblings never got proper dance training. Being the elder brother, Ayo started dancing at an early age. Following his brother's interest, Teo joined Ayo during his dancing sessions. Apart from that, they trained themselves to play several musical instruments such as trombone, piano, drums. The duo created their self-named Youtube channel in 2011 but was not quite active initially. Gradually, they began uploading their short dance videos.

Their first available video, Ayo & Teo WCC Talent Show, was released in 2014. It has 1.29 million views. Ayo and Teo's videos got massive attention from the viewers. Their music video Rolex brought ultimate fame to the Bowles brothers. Released in May 2017, It has more than 926 million views. Eventually, international artists got attention and were featured in Usher's No Limit and Chris Brown's Party. Ayo and Teo released their only album, Power, in March 2021. Their mixtape titled Bring a Friend came out in August 2020.
Personal Information
Are Ayo and Teo educated?
There is no information about their educational qualifications, but they passed Willow Run High School and attended Washtenaw Community College. Both brothers were born in Ann Arbor, Michigan, USA. Ayo's birth date is October 30, 1996, and Teo's birth date is August 29, 1999.
Relationship
Are Ayo and Teo married?
Ayo and Teo have not married anyone yet. Ayo is in a relationship with Vanna, and Teo's girlfriend is Cleopatra.
Net worth
What is Ayo and Teo's net worth?
Ayo and Teo are successful dancers and musicians. Their net worth is $2 million.
Trivia
Ayo and Teo are brothers.

They are hip-hop dancers and musicians.

Their song Rolex has 926 million views on Youtube.
View this post on Instagram
People Also Search For Taj Mahal and Rauw Alejandro