Axell Hodges is a prominent freestyle motocross racer in the USA. He is mainly known for participating in the ESPN-hosted extreme sports event, X Games.
Who is Axell Hodges?
Axell Hodges, popularly known as Axell 'Slay' Hodges, is a famous motorbike racer hailing from the United States of America. Despite being a young racer, he has achieved miles in his career. Hodges has broken many records set by the legendary racers. He is yet to gain more fame in his professional racing career. Hodges successfully won the title of Loretta Lynn's Amateur Championship. The racer received ultimate prominence following the documentary's success in his life with the name SLAY: The Axell Hodges Story. After the film, Hodges was known as Slay among the people. Donn Maeda directed it.
The youngster has received nine medals to date, including three golds, four silvers, and two bronzes. He has built a solid image in X Games and motocross throughout the years, which several skillful racers lack. After success in the motor racing profession, Hodges leads a celebrity life. He is a youth icon representing extreme sports. The masses widely follow the racer. He has 1.3 million followers on Instagram, 319K followers on Facebook, and 12.4K Followers on Twitter. Hodhges' devotion to the racing world made him host X Games 2021 Moto X in his compound, measuring around 40-acre.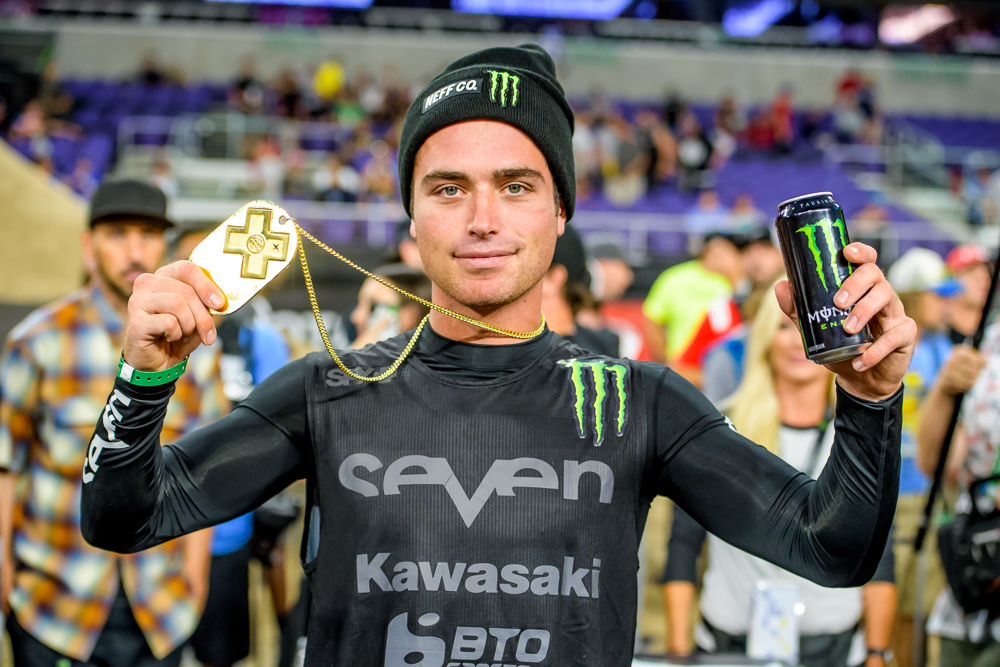 Quick Bio
| | |
| --- | --- |
| Birth Name | Axell Hodges |
| Birth Date | August 20, 1996 (Age 25) |
| Birth Place | Encinitas, California, USA |
| Birth Sign | Leo |
| Gender | Male |
| Other Names | Slay |
| Parent(s) | Shaman Hodges and Triti Hodges |
| Sibling(s) | Moran Hodges |
| High School | N/A |
| College | N/A |
| Education | N/A |
| Profession | Motorbike racer, motocross competitor |
| Active Years | 2016- Present |
| Country | United States of America |
| Nationality | American |
| Height | 5 feet 9 inches |
| Weight | 80 kg |
| Eye color | Hazel |
| Hair color | Light Brown |
| Sexual Orientation | Straight |
| Relationship | In a relationship |
| Spouse(s) | Unmarried |
| Girlfriend(s) | Gabriella Abutbol |
| Children | None |
| Tattoos | N/A |
| Social Media Handles | Instagram |
| Net worth | $400 thousand |
Career
Why is Axell Hodges popular?
Axell Hodges is a notable American freestyle motocross racer. He began motorcycling at the age of eight. The aspiring racer was attracted to motorbikes while seeing his father ride one. Observing his interest, Hodges' parents never restricted him from achieving his goal. He was the holder of Loretta Lynn's Amateur Championship in 2012. The racer first competed in the X Games at Austin in 2016. He completed the race in the eighth position.

Hodges completed his second race in the second position with MTX Best Whip.

He then competed in the World of X Real Moto in 2016, attaining 99th place. The racer competed in the X Games in the following year, Aspen securing 14th position. In 2017, he won silver in the World of X Real Moto. In his subsequent two races, Hodges got the seventh and eighth positions. In the X Games Minneapolis 2018, he won gold, and in the next race, the racer got bronze. Hodges received gold in the World of X Real Moto 2018. Hodges won both gold and silver in the X Games 2021.
Personal Information
What is Axell Hodges' physical appearance?
Axell Hodges is a 25 years old motocross racer. He is 5.9 feet tall and has a body weight of 80 kg. The racer has light brown hair and hazel eyes. His educational background has not been revealed yet. Shaman Hodges and Triti Hodges are Axell's parents. He has a sister named Moran Hodges.
Relationship
Is Axell Hodges married?
Axell Hodges is unmarried but with a lady named Gabriella Abutbol. They often post photos together on social media.
Net worth
How much does Axell Hodges earn?
Axell Hodges is a freestyle motocross champion. His net worth is $400 thousand.
Trivia
Axell Hodges' birth sign is Leo.

He is 25 years old.

Hodges is in a relationship with Gabriella Abutbol.
View this post on Instagram
People Also Search For Cooper Webb and Levi Morgan