Austin McBroom (born May 20, 1992) is a famous Instagram Star, YouTube star, and former professional basketball player for National Collegiate Athletic Association (NCAA). He has played for 'Eastern Washington Eagles', 'Central Michigan Chippewas', 'And Saints Louis Billikens', referred to as Guard. He was also very talented in other sports such as Football, Baseball.
He also had brief stints as a baseball player and a footballer. Austin has now become a full-time blogger and owns a family channel titled The ACE Family. He runs the channel and his fiancée, Catherine, and has earned millions of subscribers on the platform.
Currently, he has a famous YouTube Channel with over 19 million named 'The ACE Family'. ACE Family in the abbreviation of the initial letter of the name of Austin, his girlfriend Catherine Paige, and his adorable daughter Ellie. He also has 2 other children: 2-year-old Alara and 6-month-old Steel Mcbloom. His YouTube channel's main contents are adorable family videos and the funny behaviours of his Children. He has gained equal fame in other social media like Twitter and Instagram. Discover his Age, Height, Weight, Relationship, Networth, and Full Bio down below.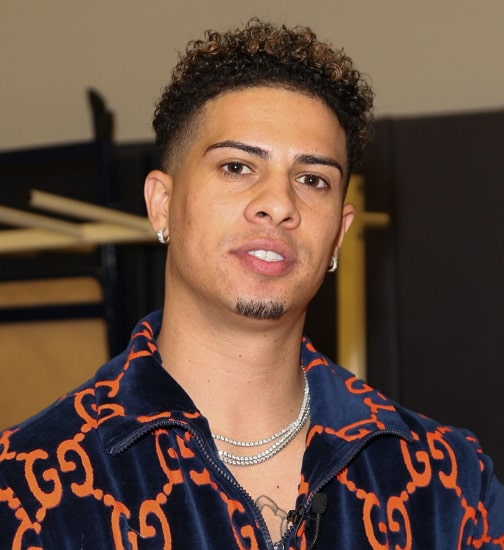 Austin McBroom's Quick Bio
Name
Austin Mcbroom
Born
May 20, 1992 (28 years old)
Gender
Male
Profession
YouTuber
Birth Sign
Taurus
Country
United States
Nationality
American
Religion
N/A
Ethnicity
Mixed
Height
183 cm (in centimetres)
1.83 m (in meters)
6 feet (in feet and inches)
Weight
77 kg (in kilograms)
170 lbs (in pounds)
Hair Color
Black
Eye Color
Dark Brown
Father
Michale Mcbroom
Mother
Allen Mcbroom
Spouse
Catherine Paiz
Children
Ellie Mcbroom, Alaia Marie Mcbroom, Steel Mcbroom
Net Worth
$ 5 million
Profiles
Facebook, Instagram, Twitter, YouTube
Austin McBroom's Career
Austin McBroom was a famous basketball player before becoming a YouTube sensation. He played guard for various teams such as 'Eastern Washington Eagles', 'Central Michigan Chippewas', 'Saints Louis Billikens'. In 2016 with Eastern Washington Eagles, he scored his career-best 37 points against Northern Colorado. He was also selected in all-state tournaments for basketball.
As YouTuber:-
Austin McBroom is also a YouTuber with 19 million subscribers in his official channel, "THE ACE FAMILY'. The channel's main content is funny and memorable with the family members like his wife Catherine Paiz and his daughter Ellie and Alaria. His daughter Ellie is already famous for her adorable behaviour and dancing. He also has quite the following on Twitter with 1.7 million followers. And Instagram with 6.8 million followers. Their most viewed video is titled "The Best Proposal of All Time", with more than 37 million views. They shared their first video in January 2016.
Austin McBroom's Personal Information
Austin McBroom stands at the height of 6 feet and weighs about 77 kg. He has black colour hair, and his eye colour is dark brown.
Austin was really good at their studies. He joined "Campbell", where he mostly got his education and was hooked on sports. After growing up, he joined Eastern Washington University, where he graduated with a degree in communication.
Austin McBroom was selected in all-state tournaments of both basketball and football. In his freshman year, he played for the 'Vikings' state championship team. The team also featured the now-popular 'New Orleans Pelicans' player Jrue Holiday.
Austin McBroom's Relationship
Austin McBroom is currently married to the Instagram model Catherine Paiz. They have 2 daughters, Ellie and Alaia McBroom, and the youngest son Steel McBroom. He married Catherine in 2015, and Ellie Mcbroom was born on 28 May 2016. His second daughter Alaia McBroom was born on 17 October 2018. His youngest son Steel was born in June 2020.
Austin gives his parents for his upbringing. His mother's name is Allen, and his father's name is Michael. He also has one sibling name Landon McBroom.
Austin McBroom's Net Worth
Austin McBroom is famous for his stint at basketball, and currently, he is a famous social media celebrity and his family. His YouTube channel The ACE FAMILY alone has more than 19 million subscribers. He also has a mass following on other social media like Twitter and Instagram. The main source of income of Austin McBroom seemed to be from the sale of merchandise, brand deals, paid promotions, and YouTube ads. In 2020, his net worth was estimated to be $500,000. The brand " The ACE Family" is estimated to be about $13 million.
However, if her new OnlyFans account continues to make money, her net worth in 2021 is expected to be far higher.
Controversy
Austin was surrounded by massive controversy when he was accused of sexual assault by YouTuber and makeup tutorial Cole Carrigan. He also accused other people like Austin's Dad and Keemstar to hide the matter. Austin completely denied the matter on his Twitter. His wife also supported Austin, claiming cole was trying to damage and defame their family.
Austin was also involved in another controversy when he was accused of being racist when a fan dug out his old tweets making racial statements. Austin addressed the tweets but did not apologize, which made his fans angry and upset.
Some Quick Trivia
Austin McBroom was a talented basket player and played in NCAA.
He is part of the famous YouTube channel 'The ACE Family" with 19 million subscribers.
His net worth is approximately $5 million.
He was accused of sexual assault by fellow YouTuber Cole Carrigan
Austin and MrBeast are both famous American YouTubers known for their funny videos.
Video
Image Credit: Austin McBroom Instagram
View this post on Instagram
People Also Search For Channa Blanchette and CJ SO COOL